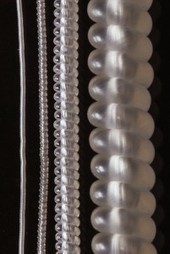 Using ordinary fishing line, researchers have crafted coiled muscles that could revolutionize prosthetics and robotic exoskeletons.
Next time you spot a muscly athlete showing off at the gym, try out this compliment: "Wow! You've got arms like fishing line."
Though it may not be taken well, it's actually a flattering comparison. Scientists at the University of Texas at Dallas have designed super strong artificial muscles by simply twisting and coiling ordinary fishing line. The coiled muscles can lift more than 100 times the weight of a human muscle of the same size, and generate as much mechanical power per kilogram as a jet engine — perhaps offering an inexpensive new material to move prosthetics and robotic exoskeletons.

On a smaller scale, the twisted yarns of polymers could also one day yield clothing with pores that open and close based on temperature, or climate-controlled window shutters.
"There are many types of artificial muscles that have been talked about in the literature for years," said the study's lead author Ray Baughman, director of the Alan G. MacDiarmid NanoTech Institute at the University of Texas at Dallas. "Very few are commercially used."