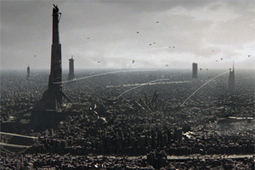 Digital filmmaking is transforming Hollywood, no doubt, but for independent filmmakers, it is nothing short of a revolution. Case in point: 22-year-old German student Kaleb Lechowski.
After seven months of writing, designing, and editing as well as reporting his progress on his blog, Kaleb recently posted his short sci-fi film R'haon Vimeo. The six-minute film, which does not include a single human being, was completed as part of his first-year studies in digital film design in Berlin.
The film depicts an alien imprisoned and interrogated by a Matrix-esque robotic intelligence that turned on the aliens and began to take over the planet. It is impressive for its sense of story, character, and drama that builds throughout the short trailer. What's also amazing is that other than help he received for sound and voice acting, the rest of the movie is his creation in concept and execution.