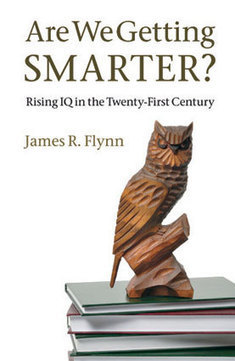 Are We Getting Smarter? Rising IQ in the Twenty-First Century by James R. Flynn .Cambridge University Press, 2012 ($22)The average person today scores 30 points higher on IQ tests than his or her grandparents did.
This observation is the starting point of the new book Are We Getting Smarter? by Flynn, an emeritus professor at the University of Otago in New Zealand.

Best known for documenting the eponymous Flynn effect—the tendency for standardized intelligence testing scores to increase over many decades across the world—Flynn is the right man for the job. Based on analyses of current IQ data, he speculates that we are not born with more mental potential than our ancestors; however, because our modern brain is expected to handle higher-level cognitive tasks from a very young age, our mental capabilities have changed. In particular, we have become more adept at learning theoretical concepts in science and technology.