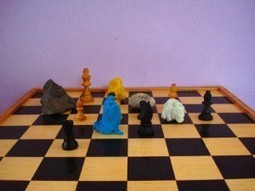 Wat wil je bereiken met het filosoferen? Het is een vraag die je als gespreksleider regelmatig aan jezelf moet stellen. Daarom was de studiedag filosoferen met kinderen van vrijdag 23 november over Nut en Noodzaak van Filosoferen v
oor Vorming ook zeer interessant. Er waren lezingen en discussies. Een van de plenaire gesprekken ging over de vraag of je kinderen überhaupt kunt vormen. Toevallig had ik net de dag tevoren gelezen over werkoorzaak versus doeloorzaak.

Hoewel ik meer gewicht op de werkoorzaak zou leggen, leek mij een keuze voor of het een of het ander nogal zwart-wit. Daarom kwam ik uit, om wel in hetzelfde kleurdenken te blijven, bij een schaakspeltheorie.
Lees meer: http://www.filosofiejuf.nl/leren-door-te-filosoferen/het-kind-een-schaakspel-homp-klei-of-brok-steen/