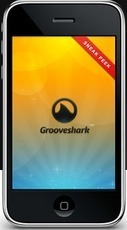 After years of fighting the system and losing, online music service Grooveshark is taking a new route - playing by the rules - with the launch of a new Pandora-like digital radio app. Previous Grooveshark apps for both iOS and Android have been released only to be later banned from Apple and Google's app stores after complaints from labels and rightsholders.
This time, Grooveshark will be launching what even they are calling their "first compliant app" in January. For 99 cents a month it will offer ad free "Broadcasts". Users can text chat with others within the app while listening to custom radio stations created by users instead of algorithms.
Because its a radio-like app, Grooveshark does not need to seek special licences from the record labels to launch. It need only pay SoundExchange and their follow rules.