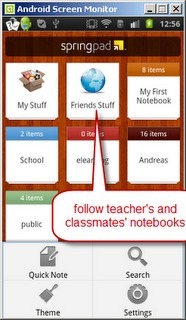 There is definitely not shortage of notetaking and webclipping apps. When it comes to notetaking you can do a lot with google apps themselves. However , if you want to keep everything in one place you have to use a notetaking app. The most popular notetaking app, both on android and iOS is Evernote.
When I first installed Evernote on my mobile device I had a real "wow" experience. However, the free version does not allow you to save notes on your mobile device and that means its use for mobile learning is quite limited and becomes useless even for shopping where you have not 3G access.
Springpad on the contrary is completely free and allows you to do most things the paid version of Evernote lets you do plus some more nice features including adding notes directly from web search and barcode scanner (QR codes). It has an intuitive app, web interface as well as browser plugins (chrome and firefox). What' s more springpad snycs with google services (as well as, yahoo, facebook and others).
Via
andreas hofer
,
Juergen Wagner
,
Let's Learn IT