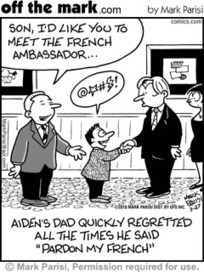 It's time for another list of idioms. This time I thought I'd introduce you to some very common idioms we use connected to nationalities and countries. I want to thank Claudine, a fellow teacher fo
r giving me this idea.
As I was compiling this list, I wondered about the origins of these idioms. Like a lot of languages, the origins of idioms are strongly associated to the cultural and historical ties countries and nationalities have with each other. I'm not going to cover the origins of these idioms in this post, but I'd be very interested in having your thoughts of where you think they might have come from.
Via
Sandra V. Barbosa
,
Aulde de B