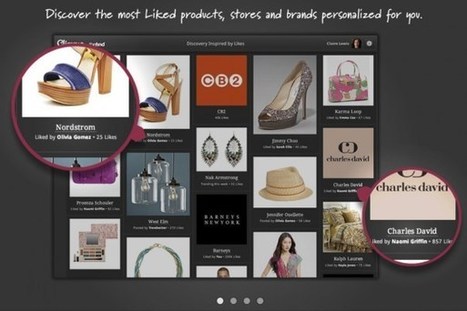 Excerpted from the article:
"Pinterest's rise has helped highlight the value of social discovery over traditional search for shopping and the lesson hasn't been lost on competitors.
Glimpse is a new Facebook shopping discovery app that is built on top of Facebook "like" data. The app curates shopping pages for users based on their likes, as well the stuff their friends like.
While Pinterest has taught people to pin the stuff they like from the web, Glimpse takes the existing data from Facebook's open graph and marries it with its database of 500 million products and 500,000 stores.
The result is an immediate Pinterest rival that is already informed by a user's Facebook activity. Users don't have to follow anyone or like anything further to immediately get a flow of products that are tailored to their tastes.
Glimpse users can just use the Facebook like button on many retailers sites to bookmark their favorites on their Glimpse page. They can also organize their page by creating separate catalogs, similar to Pinterest boards.
"Search is a task whereas discovering things you like is fun, and Glimpse is all about shopping just for fun".
The service will start as a Facebook app but iOS and Android apps should be available in the coming weeks."
Read full article:
http://gigaom.com/2012/04/29/thefind-launches-glimpse-a-pinterest-rival-built-on-facebook-likes/
Try out it here:
https://apps.facebook.com/thefind/?ref=ts
Via
Giuseppe Mauriello