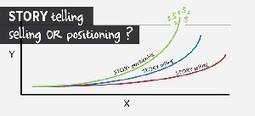 To get the story right – to bring your baby to life – you have to understand two things:
1. What "they" care about
2. That complete storytelling isn't just telling – it's selling and positioning too.
I really like this post. It's not directly about crafting stories, but it sure is effectively talking about what needs to happen BEFORE you tell a story. And that's determining who your audience is, what they want to hear, and then figuring out the key message.
The brilliance here is the author showing us the difference between telling, selling, and positioning. He gives charts and concrete examples to drive the points home. This is critical knowledge to know, and work to do, before you share your stories. If you do this work up front as part of your story crafting, you will get far better results with customer engagement, loyalty and sales!