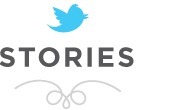 Twitter just launched a web page containing stories from its customers about how the service has made a difference in people's lives. What a fabulous idea!
But there is only 1 actual story here. Can you guess which one?
These are quick and easy to go through. This is a good example of a company with a great idea, and the kernels of some fabulous stories, but the end result is lacking.
What most companies don't realize is that if they are going to solicit stories from customers, they have to help them out by giving a few guidelines. Otherwise you just get a jumble of stuff and a story if you are lucky.
To help you out, I've written a free quick 3-step guide for Story Gathering which you can download at www.juststoryit.com/howto. From the same page you can also download the free Narrative Forms guide to help you sort out what is a story and what is not.
And let me know in the comments below if you spot the actual story on the Twitter Stories page! If you guess correct, I'll give you a shout out on Twitter and Facebook :)