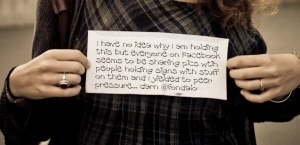 I want you to stop what you are doing and think for a moment... Are you having any fun with your social media marketing? Have you noticed that most of the social media content from blogs, YouTube, ...
Is this article about storytelling? ABSOLUTELY! Does this article mention storytelling? NO.
But go read it anyway because it has definite words of wisdom for those working with business stories. A week or so ago (oh heavesn, how time flies -- it could have been 2 weeks ago!) I curated a must see video by Bobette Buster (The Arc of Storytelling by Bobette Buster) on the power of the transformative arc in business stories. Sometimes those stories can have some heavier parts to them.
This article is a reminder for us to add humorous stories -- or humor -- to our mix of business narratives. The author shows us how we can quickly and easy do this.
So keep things light and go have fun sharing your stories!