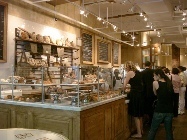 A great cafe deli in London, an example of corporate storytelling (Le Pain Quotidien - an example of great corporate storytelling (but with one exception!
Here's a short post that does three things: 1) shares an effective corporate story; 2) illustrates the power of customers sharing stories about your business; and 3) shows the necessity of employees knowing the story so the company does come across as disconnected from it.
It's a gem of a post, quick reading, and is a perfect cautionary tale about business storytelling. I hope you walk away with some good insights about what to do, and what not to do.