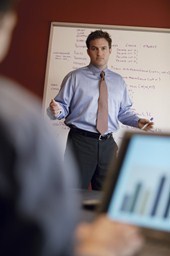 In a small white room in central London, a man clad in a Ralph Lauren shirt and jeans stands up, pushes his hair back from his face and tells 11 people seated on plastic seats about the time his rock band emptied a room of partygoers.
This article makes some great points, and then really misses it with other comments.
Here are the points I like:
-- Telling the right story is crucial to success. Huge opportunities are lost because businesses are not sharing their stories, meaning customers are less engaged and building loyalty is haphazard.
-- It is not just about telling stories orally. You business stories need to show up in brochures, websites, etc.
-- Few businesses use story strategically to convey their values, brand, or to inspire others.
-- Do not call what you are doing storytelling. Call it executive presence or narrative case studies because people perceive storytelling as 'fluff.'
-- Share your story but make sure it fits the audience.
-- Do not read your story or use notes when telling it, but share it from the heart.
-- The 'getting started' list on the left side of the article.
Here are the points I think are problematic:
-- Sharing fables. Well, that is OK, but not great. Sharing your personal story is the best kind of story to share in business because it allows you to show up more authentically. I reserve fable telling for advanced story work. If you can learn to tell your own stories comfortably, you will have much greater self confidence, and will have built a deeper level of trust with your audience.
-- Do not tell stories when you are building techinical skills. Balderdash. Research shows that technical skills are best transfered when mixed with stories that provide a context for the knowledge or skills being built.
-- The same old same old example of the Xerox copier repair folks was used to talk about effective knowledge transfer through the sharing of stories. Unfortunately, what is not mentioned in the article is that once the stories were placed in a database, they were hardly used. The lesson? People learn best by sharing stories, not necessarily by reading database entries.
-- Good advice was given about NOT telling a story that is a simple narration of events: I went to the store; I bought some bread; I came home. However, in the article they still call it a story. It's not. It's a simple narration of events along a timeline. I really would have liked them to make a stronger distinction about this so readers don't become confused. I know, I know...I'm picky!
So overlook the parts of this article that do not work, and take to heart the other insights about busines storytelling.