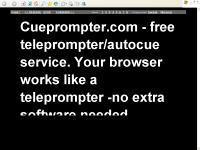 CuePrompter is a free teleprompter/autocue service. Your browser works like a teleprompter -no extra software needed.
Hey -- are you sharing your stories via videos? Are you creating video training materials? How about doing video blogging?
Crafting and sharing your stories with audiences is hard enough to do. Then move over to video and there's a whole other learning curve.
Here's a tool that can help you. If you need/want a FREE teleprompter, then this easy to use site is for you.
Have fun making your awesome video stories with this handy tool!
Many thanks to John Haydon and Chris Brogan on Google+ for sharing this tool. Go check out John's profie at https://plus.google.com/u/0/101992164641802634774/posts
Go check out Chris' profile at