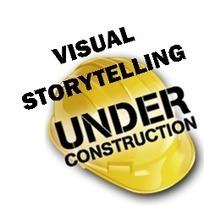 Dan Roam, author of Blah Blah Blah in conversation with Nancy Duarte on how to think vividly and using visuals to enhance one's creative process.
What a great video where both Dan and Nancy talk about their creative process and how to marry visuals to written words.
If you've ever wondered how to get better at linking words to images, or how to shift words into a compelling visual story, then this video is for you.
Both describe the generic design process:
Get an idea
Feed your idea by collecting as much material/elements as you can about it (words & images)
Bring all the elements together
Mix & match the elements together in rough mock-up designs
Start setting aside elements that are not working and save them for another project
Continue to cull the elements, refine and finalize the design
Start the production process
Complete and celebrate the final product
But these two add their own twists and how-to advice for creating visual stories. It's powerful stuff. Go watch the video and try out their suggestions!