Scoop.it!
Welcome Our Fab New Business Storytelling Experts To Just Story It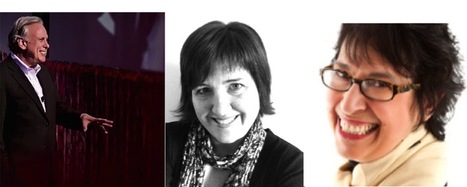 Karen Dietz's insight:
Hi Everybody! Have you noticed that there are 3 other fabulous curators contributing reviews and material to the Just Story It scoops?
Yes -- it was time to bring in some fresh perspectives. It has been an amazing ride since I started this curation in 2011. We now have 1,878 posts in the collection, 15,500+ followers, and 136.7k views. Wow!
This couldn't happen without you, and thank you for sending me such great suggestions for pieces to curate over the years.
I count myself lucky to be blessed with so many amazing colleagues. So to keep this curation fresh and interesting, I've asked several of they'd be willing to help out. I am both pleased and so flattered that they said "Yes".
Let me introduce you to this fab crew:
Story Branding guru

Jim Signorelli

from Chicago is joining us to add his expertise in storybranding and leadership. He's the originator of the Story Branding process, and is also affiliated with Anecdote's story and leadership program out of Australia.

Very Good Stories maven Lianne Picot from Toronto, Canada is bringing her business storytelling voice to the platform, along with her insights and fab radio show Story Powered

on the topic. And she's launching a brand new business storytelling community you are going to want to be a part of.

Madelyn Blair

from Maryland (

and the author of 2 books

).is one of the originals in this field. She shares her perspective on business storytelling with a focus on knowledge transfer, resiliency, leadership, org culture, etc. She's worked for the World Bank and many other influential orgs.
There's one more slot left, so email me at juststoryit@gmail.com if you want to know more and be considered.
Check out the articles they've already curated. I can't wait to see what they bring to the table. They are all deep thinkers in the realm of business storytelling, and I know we'll all benefit. I just wish I could have added more top ranked practitioners for you!
I look forward to your comments and story on!
Karen Dietz