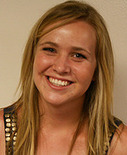 Very astute column by Lauren Lecy, a student at Chesteron High School, published on the website of the University of Indiana School of Journalism. In it, Lecy says that when she tells people she wants to be a journalist, the feedback she gets is generally less than encouraging.
Many equate journalism with newspapers and believe that newspapers are dying. But she says, "Especially today, with cell phones, social media, and the convenience of online journalism available at people's fingertips, what we decide to communicate can reach a large amount of people in a very short amount of time." Journalism is about communicating with people, regardless of the platform.
"Our responsibility remains the same as it did during print press times; we have to report what is true and thought-provoking," she says.