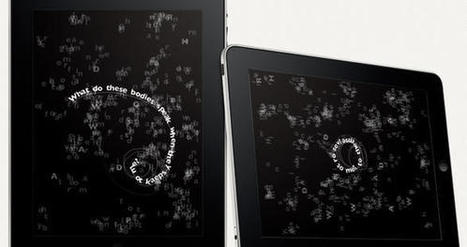 Qu'est-ce qu'un smartphone a à faire avec la poésie ? De nouveaux usages, de nouvelles formes, une conception toute neuve jusqu'à en interroger le genre. C'est l'expression proposée par le P.o.E.M.M project, qui éclate les phrases et les mots, reliés par un tracé du doigt sur un écran tactile. Tout un programme.
L'objectif n'est pas de parler d'un Ronsard transposé sur un petit écran, mais d'une nouvelle forme de poésie uniquement créée à destination des outils tactiles. Si c'est bien de poésie dont il s'agit, car avec le P.o.E.M.M project (Poems for Excitable [Mobile] Media), la question reste ouverte.
Ce qu'a développé Jason Lewis, Associate Professor of Computation Arts à la Faculty of Fine Arts de la Concordia University (Montréal), ou ce qu'il cherche à développer, c'est "la création d'une poésie qui ne serait destinée qu'à un écran tactile", explique t-il à L'Atelier. Lisible sur un iPhone, un iPad ou un iPod Touch via des applications, sa propre poésie bénéficie en effet des attributs de la technologie.
Texte écrit sur papier ou directement sur l'application, la poésie qu'écrit Jason Lewis n'a rien de la structure bien ordonnée d'un sonnet. Je serais d'ailleurs bien en peine de vous en confier une strophe, car il n'y en a pas. Qu'y trouve t-on ? Nul quatrain, donc, mais des mots ou, pis, des lettres : des nuages de lettres. Libre au lecteur d'y passer le doigt, et d'en voir apparaître des phrases ou de simples mots.
Lecteurs ? Vous pouvez vous interroger, la frontière entre lui et l'utilisateur est floue. Après tout, si l'on y réfléchit, le fait d'interagir avec une poésie, de s'approcher d'elle "comme le crépuscule approche cette première lumière, doucement, respectueusement, presque affectueusement" dirait Koltès, suppose que chacun ait sa propre version du texte.
(...)
Via
Audrey Bardon
,
malik berkati