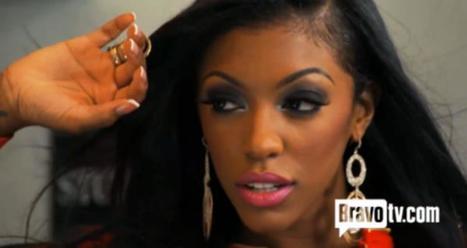 Is Bravo wrong? Of course not, it's their show and they can do what they want with RHOA. What's wrong is that they use controversy to drive ad revenue and ratings and then they fired Porsha Williams (that's whats wrong and sort of fucked up).
Everyone knows that these shows strive off this foolishness and that's why we watch (well it's why I watch I can't speak for yall).and Porsha jumping on Kenya was exactly what Bravo wanted. Kenya has a slick mouth and no one's whooped that ass (that we know of) cause she's fine and dudes probably coddle her with that bullshit (that's probably why she's by herself). Also it's clear now that Kenya is an instigator and punk an she got served because of that mouth.
It would have been grown if Porsha would have ignored her but we don't watch RHOA to see grown folks (by the way Grown Folks Shit is boring). We watch RHOA to see foolishness and Bravo knows that. It's funny how these producers run to the no touching cast mates clause when in all honesty, they set the situation up for Porsha to go off. Kenya Moore is an attractive female from Detroit and she knows of all people the consequences of a wreckless mouth (Detroit ain't no joke). So of course she was baiting Porsha. What she didn't figure in was that Decatur Ga in Porsha (S.O. to Kirkwood #LOL) and in true Decatur fashion Porsha got in that ass.
Kenya Moore says things that truly qualifies her for ass whoopings. She has a stupid wreckless mouth and that's why Bravo casted her (come on really, do we see Kenya Moore doing "Our Town" on Broadway #LSMH). Really? Kenya should want more than these 15 minutes of sensationalism but if she likes this, then I love it. Kenya's a smart savvy chick and the best she can do is pick fights on RHOA (Kenya quit being a attention addict and go get you a talk show #ThatOnesForFree).
Porsha is fine and she will be fine. Bravo will be fine. Kenya will be fine. And I will be fine when we got the next fight on RHOA "Nene, call Peter a bitch again" #LOL.
I'm ReggieRedd and I'm waiting (with popcorn) for the fights on RHOA (its like a network Worldstar).
GetAtMe
Via
Reginald Shipman