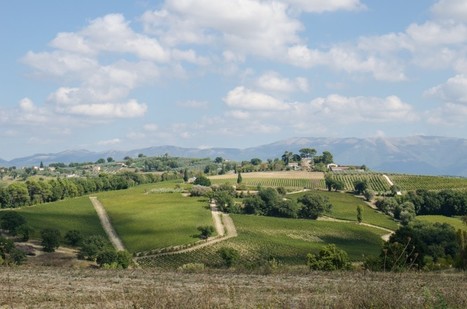 Wine production in Umbria dates back to ancient times. Archaeological artifacts show evidence that the Etruscans engaged in viticulture along the banks of the Tiber River well before the Romans here. But when they did arrive, they too developed a taste for these wines. Around the 12th century, Orvieto was a summer retreat for the Popes, and the then thick, sweet white wine from this area was shipped daily to Rome.
Umbria is landlocked, and enclosed on three sides by the Apennines mountains, but the many rivers that flow through the region bring with them warmer air from the Mediterranean. The interplay of these warmer air currents with the cool air that flows down from the Apennines provides the ideal environment for viticulture. But winemaking in Umbria has always competed with olive oil production and grain cultivation.
Centuries ago, rather than the neatly manicured vineyards we see today, the grapevines were interspersed among trees such as maple, elm, and even olive. The trees acted as natural trellises, raising the grapes off the ground so they could ripen without rotting. As recently as the 1970s, wine production in Umbria was basically a farmhouse operation making wines for local consumption. Today, a few of these family producers have transformed themselves embracing modern production methods and controls, and are now producing high quality wines worthy of international attention.
There are now 13 DOC and 2 DOCG wine zones in Umbria. A few of the distinctive wines you will find in this region are:
Grechetto [..]

Torgiano Rosso Riserva DOCG [...]

Sagrantino di Montefalco [...]