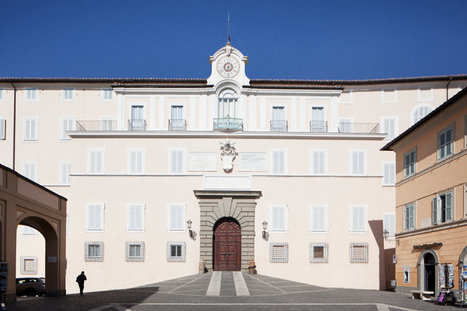 Castel Gandolfo, Italy — This cramped hilltop town outside Rome is in its final preparations for the arrival on Thursday afternoon of an honored guest: Pope Benedict XVI, who will commence his new life as pope emeritus, one of the titles by which he will be known.
Town officials have been gearing up for a rousing — as far as ecclesiastical events go — welcome, with ringing bells, processional torches and the distribution of religious images with the pope's countenance on one side and a prayer on the back.[...]
The pope will spend some two months here as he waits for the restoration of more permanent lodgings in a convent inside the Vatican where he will live out his life, "hidden to the world," as he said this month. And as the College of Cardinals begins to congregate next week ahead of a March conclave to choose Benedict's successor, the pope's off-season stint in Castel Gandolfo, about 15 miles southeast of Vatican City, is an added assurance that he won't exert any undue influence in the selection.
For nearly 400 years, the town of Castel Gandolfo has played host to a succession of pontiffs seeking solace from the stifling Roman summer.
The papacy first laid claim to Castel Gandolfo — originally a small fortress belonging to the Savelli family — in 1596, but it was 30 years later that it officially became the papal summer residence, when Pope Urban VIII built a new wing on the side of the fortress that overlooks Lake Albano. Some years later, the renowned Baroque architect Gian Lorenzo Bernini developed a second wing, under Pope Alexander VII, and over the years new lots of land with their villas were acquired and elaborate gardens were developed.
The pontifical villas of Castel Gandolfo cover a triangle-shaped swath of the town, totaling about 135 acres. A working farm provides produce — fruits and vegetables, oil, eggs and dairy products — to the pope's kitchens, both here and in Vatican City. Though the villas are under pontifical jurisdiction and high walls and secure gates bar entry to outsiders, there is considerable interaction with the town.
"Formally we are two states, but in fact it's all one community," said the mayor, Milvia Monachesi, noting that a number of its 9,000 residents work for the papal villas.