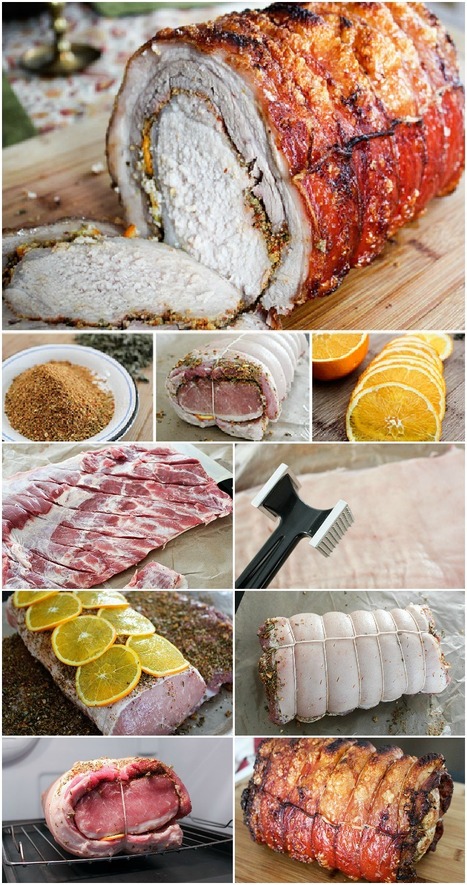 Porchetta is an Italian street food, served in market stalls or from trucks, often in sandwich form.Made from an entire gutted, spit-roasted pig, and stuffed with citrus, rosemary, fennel, and other aromatics, the key characteristic is that each portion is a miniature celebration of the best parts of the entire pig: the fat, the lean, and the crackly skin. [...]
Rather than cook a whole pig, or mess with a finicky shoulder, our version of porchetta has been adapted for the home cook. We use a huge piece of skin-on pork belly, wrapped around a boneless pork loin, seasoned with spices, and tied into a roast. Explain to your butcher what your intentions are; they will trim the pork belly and the loin for you as needed. Once you've got it assembled, it's nearly foolproof: Stick it in the oven, turn it a few times, adjust the temperature as needed, and you're done. The result is astonishingly delicious, all crunchy skin and moist, flavorful meat, a celebratory meal that is equally appropriate for a holiday dinner, or eaten standing up over the sink in sandwich form.
Porchetta
Adapted from a recipe in Bon Appetit; Serves 12-15 people
Ingredients:
1 five to six pound piece fresh pork belly, skin on

1 three pound boneless, center-cut pork loin

3 tablespoons fennel seeds

2 tablespoons crushed red pepper flakes

2 tablespoons minced fresh sage

1 tablespoon minced fresh rosemary

4 garlic cloves, minced

Kosher salt

1/2 orange, seeded, rind-on, thinly sliced
Method:
First, let's prepare by doing a test-fit of the two pieces of pork. Place the belly skin-side down, and arrange the loin in the center. Roll the belly around the loin so the ends of the belly meat. If any of the belly or the loin overlaps, trim meat with a sharp knife. Unroll and set aside.

In a small pan over medium heat, toast fennel seeds and red pepper flakes until fragrant, about 1 minute. Let spices cool, and then finely grind in a spice mill or clean coffee grinder until very fine. Transfer to a small bowl, and toss with the sage, rosemary, and garlic. Set spice mixture aside.

Arrange belly skin side down on a counter or large cutting board. Using a knife, score the belly flesh in a checkerboard pattern about 1/3 of an inch deep, to help the roast cook evenly.

Flip belly over, and sing a paring knife, poke dozens of 1/8 inch deep holes through the skin, all over the belly.

Using a spiked meat mallet, pound skin side of belly all over for at least three minutes. This will tenderize the skin, and help it to puff up and get crispy when roasted.

Turn belly and salt both loin and belly generously with kosher salt. Rub flesh side of belly and entire loin with fennel mixture. Arrange the loin down the middle of the belly, and top with orange slices.

Wrap belly around loin, and tie crosswise tightly at 1/2 to 1 inch intervals with kitchen twine.

Trim twine, and transfer roast to a wire rack set on a baking dish. Refrigerate uncovered for at least 24 hours to allow skin to air-dry.

When ready to cook, let porchetta sit at room temperature for two hours. Preheat oven to 500 degrees, and season porchetta with salt. Roast on rack in baking sheet for 40 minutes, turning once. Reduce heat to 300 degrees and continue roasting, rotating the pan and turning the roast about every 20 minutes, until a thermometer inserted into the center of the roast reads 140 degrees, about 1 1/2 to 2 hours more. If skin is not yet a deep brown mahogany, crank heat back up to 500, and roast for ten minutes more. Let rest for 30 minutes, before slicing into 1/2 inch round slices with a serrated knife. Serve slices, or in sandwich form.
*Note: I feel compelled to mention that, at approximately 850 calories per 1/2 inch slice, this dish is one of the worst things for you that you could ever eat. If this bothers you, I think you should look at the above photo again. All it means is that you should probably make this dish now, before you begin feeling the oppression of your own guilty New Year's resolutions.

Read more: http://www.fromaway.com/cooking/porchetta#ixzz2K8bhsAUk