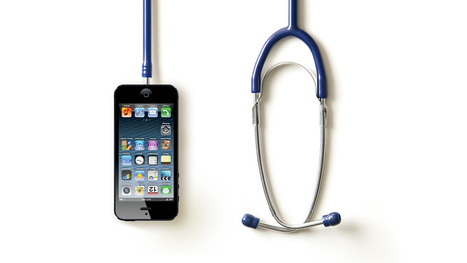 For most of time medicine was a guessing game. Doctors, or witch doctors, or shaman would inspect a patient, stir a potion and hope it would work. With some notable exceptions, modern medicine isn't so different. The data collection—blood pressure, heart rate, weight, reflexes—is largely rudimentary. We're getting by, but technology can take us so much further.
Even technology that fits in your pocket.
In the past year or two (or three) iPhones and iPads have been a fixture in doctors' offices around the world. Why carry a clipboard when you could pull up records via Wi-Fi and type the information directly into the patient's medical record? Perhaps even more powerful is the idea that these devices can be collecting data all the time.
Smartphones are incredibly powerful tools for anything as simple as data mining to something so sophisticated as measuring a patient's sleeping pattern. There are apps that can help regulate your mental health, apps that can help you keep track of what and how much you eat. There are apps that can take your blood pressure and you blood sugar. There are even apps that help you cope with aging.
While an app can't cure a disease, some of the newer, more experimental medical apps can do truly extraordinary things. This technology can not only help you feel better; it can prevent illness by spotting symptoms early on.
Via
nrip