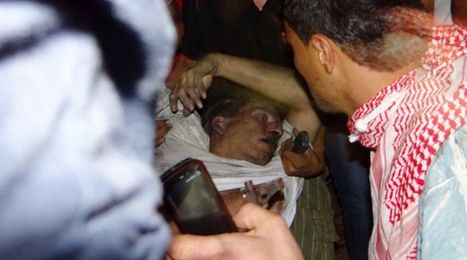 Arab media outlets are reporting, with graphic images, that US Ambassador Christopher Stevens was raped and his naked body paraded through the streets of Benghazi. Lebanese Tayyar.org news was among those running the report with photos of the Ambassador's body.
The news organization, citing AFP news sources, said U.S. ambassador to Libya Christopher Stevens, who was killed by gunmen that stormed the U.S. consulate in Benghazi on Tuesday, was raped before being murdered. A news report made by the Libyan Free Press is also reporting that Ambassador Stevens was sodomized before he was killed.
The article was originally printed in Arabic and it translates as follows :
"The U.S. ambassador to Libya was raped sexually before killing by gunmen who stormed the embassy building in Benghazi last night to protest against the film is offensive to the Prophet Muhammad (pbuh)," The sources said that "Ambassador was killed and representation of his body in a manner similar to what happened with Gaddafi, such as murder. "
Additional information revealed .... If you have any doubts whatsoever about the evilness and depravity of the 'religion of satan' after reading this article then I will pray for your lost soul.
: DDxx♥!.
Read more at :
http://amyloutarry.wordpress.com/2012/09/17/us-ambassador-was-anally-raped-by-muslim-mobs-before-being-murdered-paraded-in-streets/