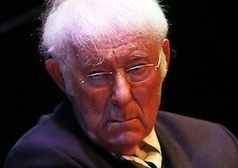 Review of Seamus Heaney and Liam O'Flynn performing together at the Fleadh Cheoil na hÉireann
The Poet and the Piper, with Seamus Heaney and uilleann piper, Liam O'Flynn, is not really a performance, and not really a show either. It is, rather, an easy-going evening of magic, in which the two men take turns to read or play to an audience buzzing with expectation.
Heaney seems to know this is a special night too, reading his own work to his own city, in a theatre for which he showed frequent admiration. He is clearly moved throughout, but always at ease.