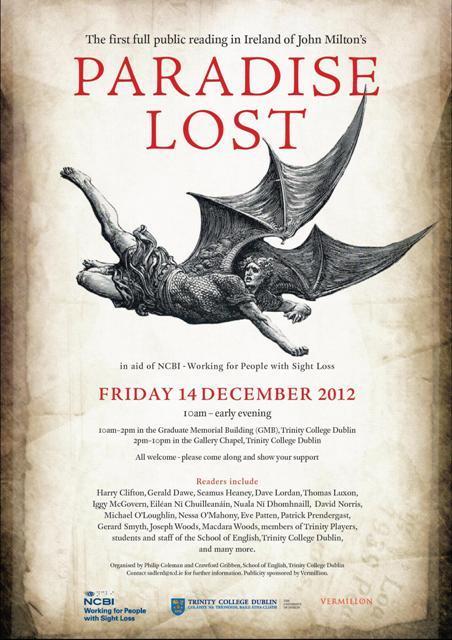 On Friday 14 December, Trinity College will host the first full reading in Ireland of Paradise Lost, one of the longest poems in the English language, written by John Milton after he had lost his sight.
The reading will be held from 10am - 2pm in Trinity College in the Graduate Memorial Building (GMB) and then from 2pm - 10pm in the Gallery Chapel. All proceeds from the event will be donated directly to NCBI.
The event, which has been organised by Philip Coleman and Crawford Gribben of the School of English, has attracted the participation of a wide range of writers and public figures, including Gerald Dawe, Seamus Heaney, Dave Lordan, Thomas Luxon, Iggy McGovern, Eiléan Ní Chuilleanáin, Nuala Ní Dhomhnaill, David Norris, Michael O'Loughlin, Nessa O'Mahony, Eve Patten, Patrick Prendergast, Gerard Smyth, Joseph Woods, Macdara Woods, members of Trinity Players, students and staff of the School of English, and many more.