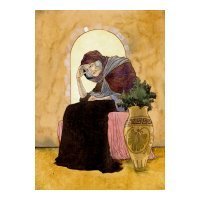 It is 20 years after the Crucifixion. Mary, Jesus's mother, is being held or protected in a house in Ephesus by two figures, one of whom may be St John, another who may be an early version of St Paul.
All around is a Greek landscape. Thus there is a new language, an unfamiliar form of worship, a vastly rich culture and a sense of the slow growth of something else, something new. All around too is a strange, insistent force that comes from the goddess Artemis, statues of whom dot the landscape, exuding power and mystery.
All around too are the theatres and temples, the public spaces that cause awe and fear in a woman from a village, someone who has come traumatised and terrified to this place on the edge of the sea. No one is sure what should be done with Mary...