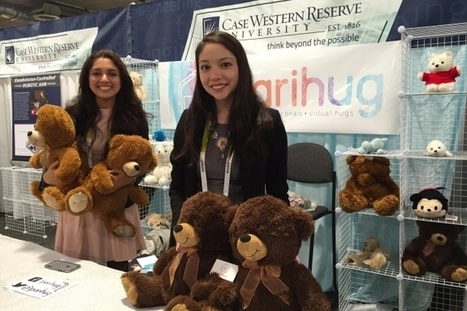 "Would you like a virtual hug?" said Xyla Foxlin, a sophomore from Case Western Reserve University, to a woman passing by her booth at this year's International Consumer Electronics Show.

"What's a virtual hug?" replied the passer-by, Tiphaine Bichot.

Ms. Foxlin handed Ms. Bichot a fuzzy, brown teddy bear that happened to be tethered electronically to an identical stuffed animal.

"The idea is that, as I give one bear a hug, it sends a Wi-Fi message to that one, and that bear gently vibrates," the student said. As the visitor nestled the toy to her chest and began to feel the simulated embrace, she laughed delightedly, with a wide-eyed smile.

"So if you're constantly traveling away from your kids," continued Ms. Foxlin, "or if you work abroad or if you're in the military, etc. — separated for any reason — then you have a way of physically communicating with your child, which is psychologically the most important form of communication."