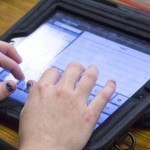 "Every year, Belding High School teacher Michael Ostrander buys 300 pencils and places them on his desk in the event that a student happens to be without a writing utensil for that class period.
He doesn't charge his students, he doesn't ask for the pencils back, he simply wants his students to be prepared for his literature classes.
Three months into the school year, and for the first time in his teaching career, all 300 pencils continue to sit, unused, on Ostrander's desk.
The answer to why no student has needed a pencil sits squarely in every students' hands as they perform their classwork with an Apple iPad."