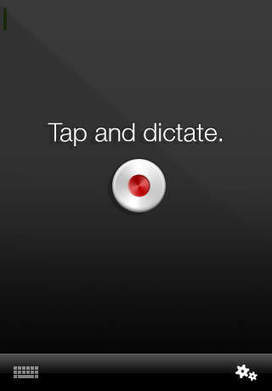 by Miguel Guhlin
Wondering about speech to text iPad apps? That's a bit different than text to speech or OCR to speech solutions previously featured in this blog.

For now, these are the options I've seen that are focused on speech to text:


Dragon Dictation (Free) - "Dragon Dictation is an easy-to-use voice recognition application powered by Dragon® NaturallySpeaking® that allows you to easily speak and instantly see your text or email messages"Voice Texting Pro (Free) - "...Speak into the microphone and convert your speech into text. Then directly send your message to e-mail, sms, Twitter or Facebook. You can also send it to your clipboard (copy) and paste the dictated text in any other application."Speech Notes (Free) - "Speech Notes is a note taking app that can convert speech with the help of internet connection. Just tap on mic button and once done hit again to start converting voice to text." Voice Assistant ($1.99) - "Voice Assistant Translates Your Voice into Text and Sends It to Virtually Any Other iPhone/iPad App" via LifeHacker
Jim Lerman's insight:
I think this is just such a powerful technology. I'm constantly amazed at how few people use it. I wrote most of my last book using speech-to text-software. It is such a timesaver!
Via
Jim Lerman