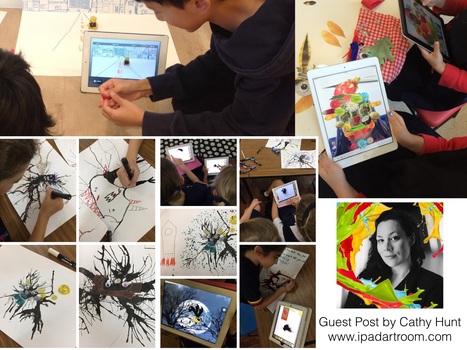 Delighted to say that the fantastic Cathy Hunt, creator and author of the brilliant www.ipadartroom.com has generously contributed this month's blog post. She can also be followed on Twitter @art_cathyhunt
The iPad is a really flexible and powerful tool for learning through art-making in the classroom. While there are many fantastic drawing apps available for students to explore digital image creation, I believe the most exciting opportunities for creativity with iPad utilise apps that combine the camera and hands-on, tactile materials.
What does this kind of learning look like?
Well, often it is messy!
For example, a project might start with a student creating a drawing in pencil, and then photograph taken of the sketch with the iPad camera follows. The opportunity to digitally manipulate the image using apps results in a new work, and it is saved to the camera roll. Printing the work, adding a wash of colour across the paper and cutting it into pieces sees the creative process continue.
In these mixed-media workflows, unlimited possibilities can be explored as techniques, processes and media combine across diverse folios. Ending points become starting points, highly original work evolves and students become aware of their potential as innovative creators. Deep engagement and understanding of the creative process is often the most powerful result.
Once the mindset kicks in, paint and pixels merge.
Imagine…
Creating paper flip-book animations using instagram images
Using iPhoneography to capture portraits, importing them into apps for manipulation, then printing and ripping the up the pieces for a collage
Drawing with pen to create an animation, captured on iPad, and then activated within a painting using augmented reality to create an interactive, living image.
Get started!
Here are three easy ideas to merge paint and pixels in your 'mobile maker' classroom…
Explore time-lapse

Use the time-lapse feature in the native camera app to produce a video of a clay sculpture growing in size, or to track changes in painting progress. It's a simple touch to start and finish this kind of video, which provides a valuable tool for reflection on process and product for students and teachers.
Start using stop-motion to bring inanimate objects to life
Apps such as I Can Animate and iMotion HD allow for stop motion animation using objects. Students can use the simple interface to produce exciting videos using their own artwork. This is a great collaborative medium too, for example, imagine creating an animated narrative puppet show using small groups and characters created in felt.
http://www.ipadartroom.com/how-to-load-up-the-learning-in-animation/ ;
Discover the world of three-dimensionality

Apps such as Foldify allow students to produce printable 3D nets on iPad. They can digitally draw on the templates and even add their own images to the design then print them off to cut and construct. You can create packaging for products, cartoon characters for animations, geometric objects for mobiles, etc. You'll also find that working with digital 'nets' supercharges student capacity as they work through the design process from screen to physical object.
http://www.ipadartroom.com/foldify-bring-your-ideas-to-life-in-3d/ ;