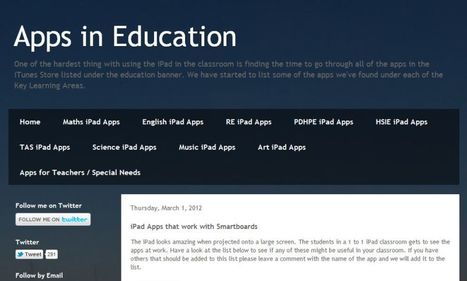 "The iPad looks amazing when projected onto a large screen. The students in a 1 to 1 iPad classroom gets to see the apps at work. Have a look at the list below to see if any of these might be useful in your classroom..."
Het betreft hier zeven apps. Voor één app moet je betalen en de andere zijn gratis. De apps zijn verkrijgbaar in de Apple-winkel (iTunes).
Ik heb zelf geen iPad, dus ik weet niet hoe je een iPad aan een Windows PC moet koppelen en of dat wel kan. Ook weet ik niet of je een iPad rechtstreeks aan een digibord kunt koppelen. Ik heb hier ooit ergens iets over gelezen, maar waar..???
Maar goed, er zal hier ook wel weer een truc voor zijn, toch...? Of heb ik "Apps in Education" verkeerd begrepen...?
Via
Timo Ilomäki
,
peterlakeman
,
André Manssen