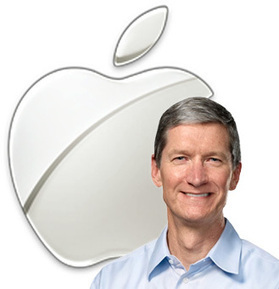 In an emotional response to the National Center for Public Policy Research (NCPPR), Apple CEO Tim Cook soundly rejected the politics of the group and suggested it stop investing in Apple if it doesn't like his approach to sustainability and other issues.
Mr. Cook's comments came during the question and answer session of Apple's annual shareholder meeting, which the NCPPR attended as shareholder. The self-described conservative think tank was pushing a shareholder proposal that would have required Apple to disclose the costs of its sustainability programs and to be more transparent about its participation in "certain trade associations and business organizations promoting the amorphous concept of environmental sustainability."
As I covered in depth yesterday, the proposal was politically-based, and rooted in the premise that humanity plays no role in climate change. Other language in the proposal advanced the idea that profits should be the only thing corporations consider.
That shareholder proposal was rejected by Apple's shareholders, receiving just 2.95 percent of the vote. During the question and answer session, however, the NCPPR representative asked Mr. Cook two questions, both of which were in line with the principles espoused in the group's proposal.
The first question challenged an assertion from Mr. Cook that Apple's sustainability programs and goals—Apple plans on having 100 percent of its power come from green sources—are good for the bottom line. The representative asked Mr. Cook if that was the case only because of government subsidies on green energy.
Mr. Cook didn't directly answer that question, but instead focused on the second question: the NCPPR representative asked Mr. Cook to commit right then and there to doing only those things that were profitable.
What ensued was the only time I can recall seeing Tim Cook angry, and he categorically rejected the worldview behind the NCPPR's advocacy. He said that there are many things Apple does because they are right and just, and that a return on investment (ROI) was not the primary consideration on such issues.
To read the full article, click on the image or title.
Get your Free Business Plan Template here: http://bit.ly/1aKy7km
Via
Marylene Delbourg-Delphis