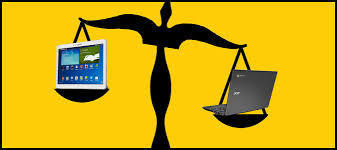 David Thornburg:
The fact is that the Chromebook emerged as a wild card in a field that never seems to stop and catch its breath. Does this relegate tablets to the storage closets? Of course not. It merely suggests that we need to base our purchasing decisions on the best information we have at the time. And, make no mistake about it, there will be something someday that eclipses the Chromebook. This just reinforces the importance of ensuring that whatever purchase we make is based on the actually utility of the device to kids in support of their learning. As long as we do that, we are on solid ground.
Dennis T OConnor's insight:
Chromebook vs Tablet --- When Thornburg talks, I listen.
Via
Dennis T OConnor
,
Jim Lerman