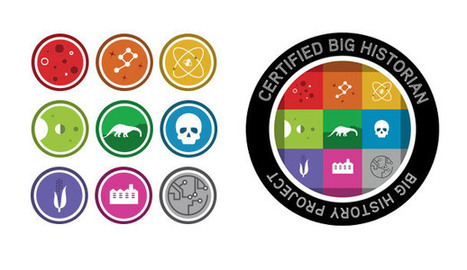 "Explore 13.7 billion years of shared history and consider the big questions about our Universe, our planet, life, and humanity. From the big bang to modern day to where we are going in the future, big history covers it all
"The Big History Project is a free, online course that tells
the story of our Universe and humanity.
"Developing a framework to help people learn about anything and everything. It's inherently
interdisciplinary – combining the best of social studies, humanities, and science.
It will take about 6-8 hours to complete the core material and quizzes
The content mixes great editorial with videos, infographics, and imagery
Features leading academics and experts in a range of fields
Optional quizzes test your knowledge along the way"
Jim Lerman's insight
This is a free, interdisciplinary short course supported by Bill Gates. It is available for use by individuals or for teachers to use with classes. Course completers earn badges along the way. School version is intended primarily for Social Studies classes.
The paragraph below is from the school version website:
"The Big History Project is built from the ground
up to help teachers and students succeed
100% open, online curriculum and content; easy to download, print, and share
Ready-made lesson plans, inline teaching guidance, and support
Custom-designed content including videos, texts, comics, and animations
Easily tailored state standards and instructional approaches
Aligned to Common Core ELA standards for 9th and 10th grades"