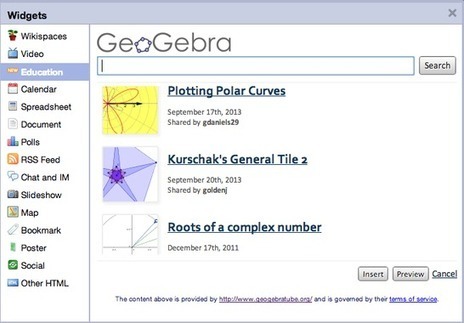 "GeoGebra is a free, multi-platform online tool that allows students to visualize mathematical concepts. Now you can integrate GeoGebraTube materials directly into your wiki! GeoGebraTube is a repository of dynamic mathematics teaching and learning materials created and shared by GeoGebra users. Teachers and students search this database to view, download, revise, create and share worksheets with others.
"To embed one of these resources in your wiki, go to "Edit" and "Widget" on any of your wiki pages and choose "Education" the "Geogebra" to find pages and pages of interactive student "worksheets" that embed beautifully on your wiki. Amazingly, GeoGebraTube averages 100 new pieces of material every day and has had 22 million visitors since its launch 18 months ago, with some applets receiving more than 100,000 views, exemplified by a Hong Kong based user with 129,000+ views for a worksheet on area of circles."
Jim Lerman's insight:
This functionality requires that Wikispaces be used as the wiki host. Wikispaces has added numerous apps as directly embeddable in users' wikis...a very useful development.
via Edsurge