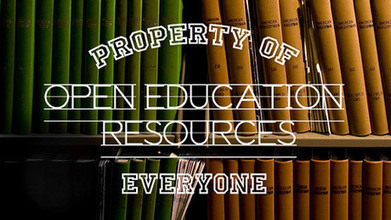 by Andrew Marcinek
"Over the past two years, I've been working with my district to transition from the popular textbook towards Open Educational Resources, or OER. One of the leading benefits of OER options is that they are free and open to educators. That in itself is a reason to inquire. The information has been vetted for credibility and some of it is derived from some of the world's top colleges and universities.
"Recently at Burlington Public Schools, we have moved toward opening up our course content and started organizing our faculty-created resources -- presentations, assignment sheets, etc. -- along with OER options. What we are doing is giving our faculty and our students more ways to connect and share dynamic, developing content. Plus, a digital resource created by teachers in conjunction with OER does not require edition upgrades. What's more, teachers can change and update content when they need to. This option gives them full autonomy over their classroom content.
"To manage this transition, we started using Net Texts as our content management and distribution application. Net Texts is a free application that has many similarities to iTunesU. It allows our teachers to post content -- PDFs, videos, photos, audio, etc. -- from their web-based management system directly to the students. Teachers can frontload courses for the year and update at any time. When there is an update, students will receive a red badge on their Net Texts app. Once they sync with the wi-fi, they can update the course. The other advantage of Net Texts is that students can use it offline (if no updates are pending) and open posted resources such as PDFs in third party applications (like Notability)."