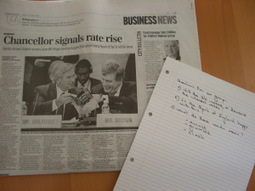 by Dominic Braham and Anthony Gaughan
"Most of the following list of ideas for text exploitation was brainstormed in not much more than five minutes while we were planning sessions to form part of our Certificate in Teaching English for Business (CertTEB) course in Berlin. Seven of the ideas were contributed by CertTEB course participants and we would like to acknowledge and thank Louise Mc Cloy, Mark Giddings, Paul Milkaitis and Jessica Abraham for their ideas.
"The ideas are presented in the order they came to us, so there is a kind of logic to the list but it certainly isn't in order of effectiveness. We would simply like to present them here with a little commentary on each.
"None of the ideas is anything new; the fun is in seeing them all together and realising how much more we can (and sometimes actually) do with texts in the classroom. Neither is the list exhaustive, we are sure that you will have come up with ideas that we do not mention here. If you do, we would love to hear about them so please drop us a line at the email address at the end of this article."