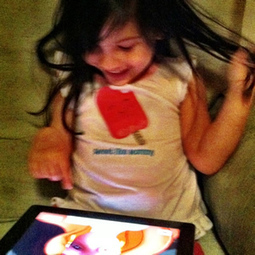 By Diana V. Faustmann
"To improve your search results for the best iPad and iPhone apps for kids, you must first do a little homework. I'm happy to share mine with you below. It's a list of more than 100 kids app review sites compiled over time for and in behalf of a little girl named Maya. She's a three-year-old whom I grandparent (and spoil) long-distance with FaceTime chats and the best iPhone and iPad storybooks, games and learning apps for kids. So far, so good.
"Ironically, the challenge of finding the best iPad and iPhone kids apps begins in the App Store, where the label of "Kids" applies generically to toddlers, tweens and teens. So to make truly discriminating kids app choices — appropriate to your child's age, needs and preferences — you definitely need the guidance of kids app reviewers. You'll find app-smitten parents, grandparents, aunts and uncles among them, as well as "appstute" teachers, educators, psychologists, therapists, app developers, professional tech reviewers and more. This list should help you identify a few good ones, well suited to you and your children."