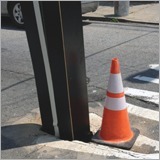 Summary by NettedByTheWebbys
"SeeClickFix is a nationwide service that allows citizens to report and track non-emergency issues within their neighborhood. Users enter a brief description of the problem or upload photos of cars blocking traffic, dangerous potholes, graffiti or other public nuisances.
"The site routes the complaint to the proper authority, and progress on the matter is routinely updated so you can pat yourself on the back once the issue is resolved (or continue to draw attention to it if it isn't)."