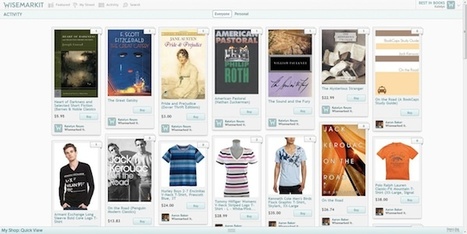 Robin Good: Wisemarkit is a new web service which allows anyone to create a personal online boutique and to stock it with his/her favorite items while earning a commission on those actually sold. These items need not be from you, though they can, but can be brought in from Amazon or ShopSense to populate your boutique even if you are not a designer.
From the official site:
a) Open a shop in 60 seconds
b) Fill it with products you believe in
c) Share across your network
d) Make commission off what you sell
Mashable reports: "Individuals don't need to own the stock to put it in their shop and make a commission on the sale," Salah says. "Etsy is all user-generated products. So, if I make a desk, I can sell it on Etsy.
In Wisemarkit, I can sell the desk without owning the desk.
...Members can curate products from Amazon and ShopSense, which aggregates products from online retail destinations including NET-A-PORTER, Shopbop and Neiman Marcus."
To be noticed, is the curation attitude that pervades this online shopping strategy.
"Currently, Wisemarkit users are limited to 10 Wisemarks — recommendations on the platform.
...Only 10 products show up in your main shop at a time. Older items remain in your stock room and commission can still be earned on referrals.
For example, I might have a shop of swimsuits, as the winter approaches I change my shop into a winter coats store. The swimsuits go into my stock room," Salah says. "The following season I might dip back into my stockroom and Wisemark the swimsuits again, and now the winter coats are in my stockroom."
(Source and image by Mashable:
http://mashable.com/2012/08/06/wisemarkit-online-shops/)

Find out more adn request and invite here: https://wisemarkit.com
Via
Robin Good
,
Giuseppe Mauriello
,
Mariano Fernandez S.