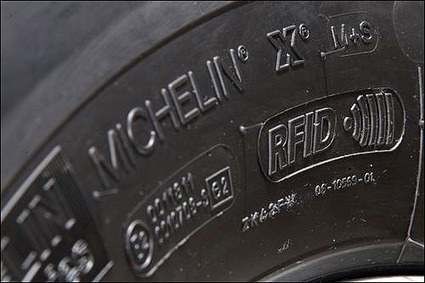 Many buses operated by Stagecoach London have been fitted with Michelin's X InCity tires that have integrated EPC Gen 2 passive RFID tags and wireless air-pressure sensors.
Without the TPMS system, Michelin reports, it typically takes operators a total of 15 minutes to check the pressure and condition of every tire on a bus or truck, and to then record that information.
In the absence of an RFID solution, the staff must remove the cap from each tire's valve and attach a pressure gauge in order to measure the pressure. The workers must then manually write down or input the resulting measurements, as well as the serial number printed on each tire's outer sidewall. The serial number can sometimes be difficult to read if the tire has been rubbed or scraped against curbs or other obstacles, says Jean-Claude Pats, the head of Michelin Europe's trucks division.
"The idea is not to do it more frequently," Pats explains, "but to do it faster, more reliably, and to automatically generate data that can be used to issue a report to the customer, and can be stored in a database that will be used to follow the tire performance."