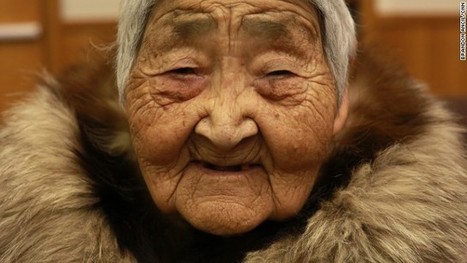 One of the cooler experiences I've had in recent memory was meeting Elsie Nanugaq Tommy, a spry 104-year-old who started a secret women's shelter decades ago out of her home in Newtok, Alaska. She's a bundle of smiles and optimism -- and her legacy of helpfulness already has been passed down to her granddaughter, Denise Tommy, who is executive director of the Tundra Women's Coalition in Bethel, Alaska, which shelters women and fights violence with educational programs.
Alaska doesn't have to be the state where rape is .........
.
The lawless 'end of the land'
http://edition.cnn.com/2014/02/03/opinion/sutter-alaska-rape-lawless/index.html
"Statewide, 59% of women suffer from intimate partner or sexual violence."
Governor: 'Alaska has an epidemic'
http://edition.cnn.com/2014/02/03/opinion/sutter-alaska-rape-governor/index.html
"
"But Alaska Gov. Sean Parnell deserves national name-recognition for one reason: He's taking on one of the most important issues of our time.
He's trying to get Alaska to talk about the "resident evil" of rape.
"It's culturally permissible to be silent about it," and that must change, Parnell told me in a recent interview at the governor's office in Juneau"
For years, this state -- which has the highest reported rate of rape in the country, according to 2012 FBI crime estimates -- denied it had a problem. Politicos and advocates said maybe Alaskans reported rape more often than people in other states -- but, gosh, it couldn't be a bigger problem here than elsewhere, could it
Parnell has helped end that era of senseless denial.
In our interview, he called violence against women an "epidemic." Like an alcoholic must admit he has a problem in order to face it, he told me, the governor of the state with the highest rape rate must, too, fess up to the problem in order to solve it."
Related: The rapist next door
http://edition.cnn.com/interactive/2014/02/opinion/sutter-change-alaska-rape/index.html
Meet Alaska's pioneer womanhttp://edition.cnn.com/2014/02/03/opinion/sutter-rape-alaska-pioneer/index.html?hpt=hp_t1List:
States where rape is most common
http://edition.cnn.com/2014/02/03/opinion/sutter-alaska-rape-list/index.html