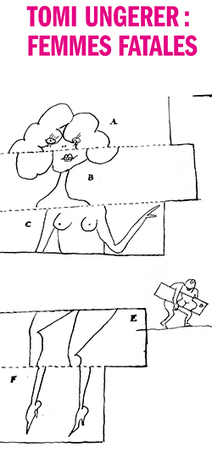 Du 21 mars au 29 juin 2014
Pour la première fois, le Musée Tomi Ungerer – Centre international de l'Illustration, présente un accrochage de ses collections sur le thème de la femme dans l'œuvre de Tomi Ungerer. La figure féminine y est centrale que ce soit dans ses croquis, ses dessins de livres pour enfants, ses œuvres érotiques ou satiriques.


L'exposition s'ouvre sur des portraits de femmes réalisés par Tomi Ungerer entre 1970 et 1985 en grands formats, dans un style qui se situe entre le dessin d'observation et la satire. Les sériesAmerica (1956-1971) et Tomi Ungerers Frauen. Zeichnungen 1956-1983 présentent quant à elles des dessins essentiellement satiriques, qui ont parfois servis à un but publicitaire. Dans l'œuvre de Tomi Ungerer, souvent l'humain s'animalise, et inversement : il use d'un procédé similaire avec la figure féminine pour dénoncer les maux de la société contemporaine, dans des séries telles Babylon (1979) ou Amnesty Animal (1990).
Les dessins publiés et inédits du livre The Party(1966) nous plongent dans l'univers des soirées mondaines new-yorkaises que fréquentaient Tomi Ungerer et son épouse dans les années 1960 et donnent une vision parfois cynique de la femme. Dans Inside Marriage (1960) et The Underground Sketchbook of Tomi Ungerer(1964), deux recueils de dessins satiriques très acérés, Tomi Ungerer réalise des saynètes à l'humour corrosif et met en scène la femme au sein du couple, et ses relations - souvent conflictuelles - avec l'homme.
Via
Thomas-Penette Michel