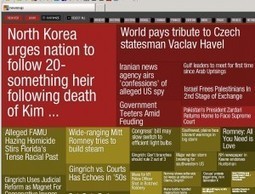 Kim Jong-il & Vaclav Havel die to very different world reactions, one leader will be missed, the other leaves a power vacuum.
This effect is not limited to world leaders. It is often seen in organizations as well. Managers' authority comes not from within, due to character and personality, but from without, from their position.
It is difficult to show the effects of these two different styles. Here however, the differences become apparent in the reactions to the deaths of two well known leaders, each one a representative of one of the styles.
Via
Susanne Ramharter