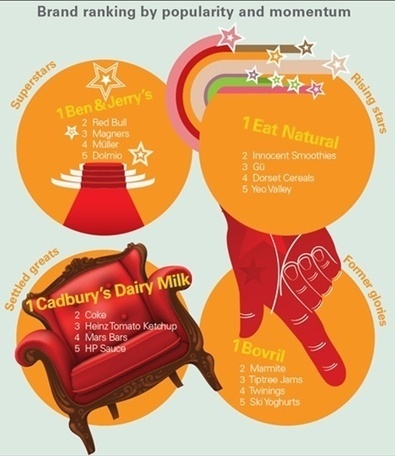 Brands that have slipped down the likeability scale can regain status and even become superstars, according to research shown exclusively to Marketing Week .
Marketers may believe that brand popularity relates simply to how many products are sold but the study finds that there is more to it than sales figures and popularity is not easy to maintain.
The research by agency Leo Burnett analyses 5,000 responses to the popularity and brand attributes of 50 FMCG brands (see methodology, below). Based on these attributes and popularity scores – which take into account momentum by subtracting popularity today from popularity 10 years ago – the brands are divided into four categories: superstars, rising stars, settled greats and former glories.
Superstars – such as Ben & Jerry's, Magners and Müller – have high popularity and great momentum, while brands such as Green & Black's, Gü and Innocent are deemed rising stars because, despite good momentum, they have low popularity scores. Meanwhile, Andrex, Dairylea, Heinz Tomato Ketchup, McCain and Walkers are settled greats with high popularity but low momentum while brands in the category of former glory include Bovril, Jammie Dodgers, Marmite, Ski Yoghurts and Twinings – all of which have low momentum and low popularity.