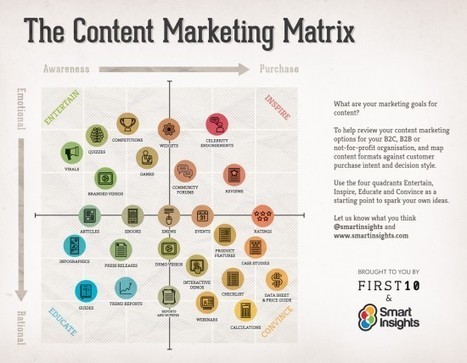 I still often hear "we need a social media strategy" when training or at conferences. This is positive since it suggests a more planned, holistic approach to social media than the "we need a Facebook page" which we heard two or three years ago.
I do wonder, though, what these social media strategies contain; sometimes it seems that all they will cover is general goals, evaluation, policy and how to make use of different potential social networks.
If this is the case, I think it's important that a social media strategy is linked to, or contains, a content marketing plan which reviews the options for using different types of content to support campaign objectives.
Of course not all content will get the cut-through and sharing, needed – you need a way to see whether it will. "Creating content" isn't enough – according to Michael Stelzner, it needs to be Nuclear content, or for Lee Odden, Rock Star content, and for Joe Pulizzi,Epic content.
We developed the Content Marketing Matrix as a way for businesses to review potential content types for different target personas. In workshops the matrix seems well received as a useful tool, but it is so good at identifying new approaches that there is then the challenge of deciding on the best investments!