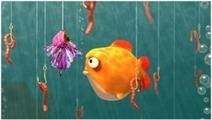 When it comes to content marketing, should your business be creating and sharing more? Can you map content to sales results? Does your customer "bait" stand out from your competitors'?
In a recent webinar, Ian Michiels, principal and managing director at Gleanster Research, dissected and discussed the value of inbound marketing and its synergy with sales. Michiels identified productive content strategies you can employ, and introduced ways to measure and justify the investments. You can watch the full webinar here: The Revenue Connection: Linking Content Marketing to Sales Results.
Reduce the noise
It's important to create content for your company without becoming a part of the noise. The volume of content is overwhelming. Every minute:
684,487 pieces of content are shared on Facebook100,000 tweets are sent via TwitterWordPress users publish 347 new blogs571 new websites are created204,166,667 email messages are sent
Make sure your content is compelling enough to break through the noise. One effective strategy is to become a part of the solution for a targeted subset of individuals.
Read more at http://www.business2community.com/content-marketing/how-to-link-content-marketing-and-sales-0475109#oeDMcdmXBKsfqZLs.99