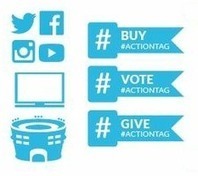 Social conversion platform Chirpify has long been tinkering with in-stream transactions, but today it launches a feature that could revolutionize the way we interact with social.
#Actiontags – the 'logical evolution' of hashtags – will make social media a point of conversion for marketing and advertising campaigns by offering users the opportunity to make a purchase, enter a competition, donate money, subscribe to a newsletter or any number of other activities, simply by posting a hashtag on Twitter, Facebook or Instagram.
Brands and organisations define their #actiontag (e.g. #buy, #donate, #subscribe) along with their #campaigntag, and consumers are able to transact simply by posting both tags to whichever social network. For example, a fashion brand running a campaign for a #LittleBlackdress could post a tweet with the instructions to tweet '#Buy #LittleBlackDress' in order to purchase said dress.