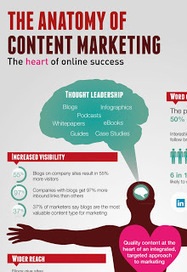 What is content marketing? Is there a definition for content marketing? And how does content marketing work?
Content marketing:A way of creating and sharing content to promote an idea, engage an audience and spur them to action. It's an integrated, targeted approach to marketing with quality content at its heart.
In short, content marketing is the best way to let your target audience know who you are, how your products and services can benefit them, and to encourage them to buy from you. So content marketing is essential to online success - just like the heart is essential to the functioning of the body.
ContentPlus explored this concept in our new infographic entitled The Anatomy of Content Marketing: The heart of online success.